COMAC v1.0.0 Release Note
This is the first major release of COMAC (Converged Multi-Access and Core).
Software achitecture
All components of COMAC runs on Kubernetes. The release includes Helm charts for deploying OMEC, COMAC profile, and an example application CDN. SDN based RAN in green boxes will not be part of v1.0.0 but subsequent releases.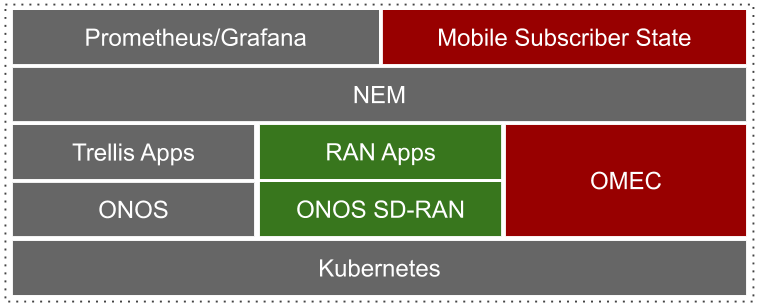 Highlights
Support open source EPC, OMEC.
Support both centralized and distributed scenario where control plane components of EPC are placed in a central cloud and data plane components are placed in edges.
Support SR-IOV and DPDK for accelerating the data plane.
Support an emulated development environment COMAC-in-a-box.
Provide mobile subscriber state monitoring.
Provide sample Grafana dashboard setting.
Provide an example application, CDN.
Leverage the latest v7.0 CORD-Platform for basic node and K8S pod monitoring and logging.
Leverage Trellis for underlay fabric.